Any of your admin users can handle payment and invoice related tasks. It's all managed from SETTINGS > BILLING in the desktop version of Timetastic.
In this guide we'll cover:
1. How to pay for Timetastic
You pay for Timetastic using a debit or credit card - VISA, Mastercard, or Amex. Put your card details into the secure form in SETTINGS > BILLING.
You'll be charged each month based on the number of users and emailed a VAT receipt.
Apologies, we do only accept payment via card online. We don't accept direct debits, bank transfers, POs, bitcoin, or cheques.
2. Input and update your payment card
Card lost, stolen or expired? Want to switch to a different card? No problem, you can change or update your card anytime.
The update is instant, so your next and all subsequent payments will be charged to the new card.
There's a link to 'Update your payment card':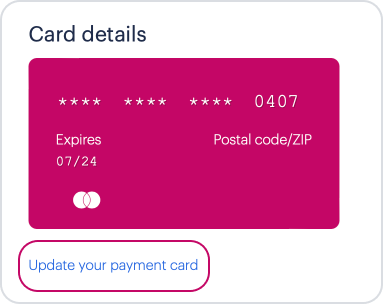 3. Switching to Pro
Switching between the plans is easy. Just click 'Switch to Timetastic Pro' and agree to the terms. You'll be switched onto the new plan immediately and your billing date will remain the same.

You can switch back anytime by selecting the Business plan.
Here's more detail on the plans: Timetastic price plans
4. Setting which email address receives the receipts
You don't need to forward the monthly receipts to your accounts department. We'll send them to any two email addresses you choose, just enter their email address in the billing details:

5. Getting a copy of a past invoices
At the bottom of the billing page you'll see 'Payment history'. It's got all your past payments and links to download the invoices.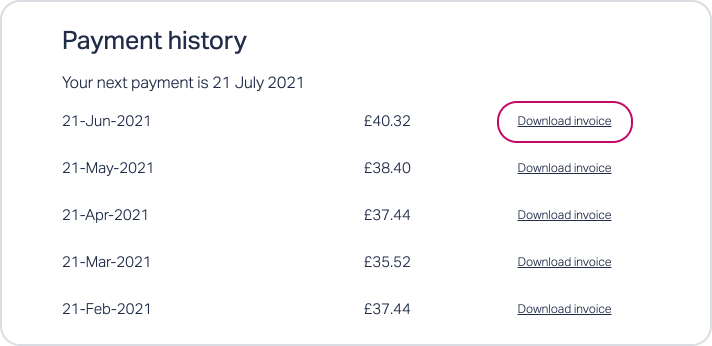 6. What to do about declined payments
Unfortunately it happens, banks decline or reject payments for a whole host of reasons. No need to panic though, we've got a two week grace period built in to handle this.
We'll automatically retry a few times during the next two weeks. In most cases payments go through successfully when we retry a few days later.
We'll send an email each time we try to take payment, so you know if it was successful or not.
If your payment continues to fail you'll need to try a different payment card.
If you're concerned then contact support and we'll do our best to help.
Our payment provider, Stripe, provides a more in-depth look at declines.