Calendar feeds: ical / webcal
Using the iCal feeds you can show Timetastic in your normal calendar, you can have up to five calendar options available:
Your calendar
Your favourite user's leave (see: Wallchart and calendar

)

Users you approve (if you're an approver)
Your department
Your entire company
You can sync Timetastic directly with any calendar which supports iCal (which is most) but if you don't know then we suggest contacting their support to ask.
Note: We also have specific instructions for Google Calendar and Office 365.
Getting started
On a desktop head to 'My Calendar' and click 'Calendar Integrations'.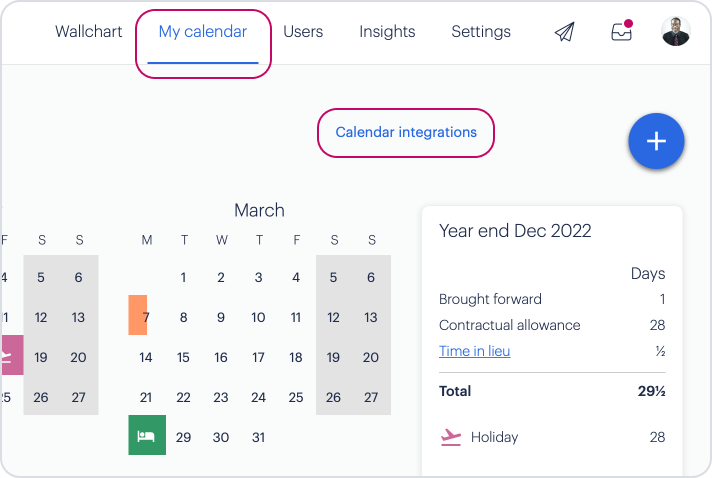 You will land on the page where you can choose to integrate your Google or Outlook calendar directly, or as we'll deal with here, subscribe to a calendar feed.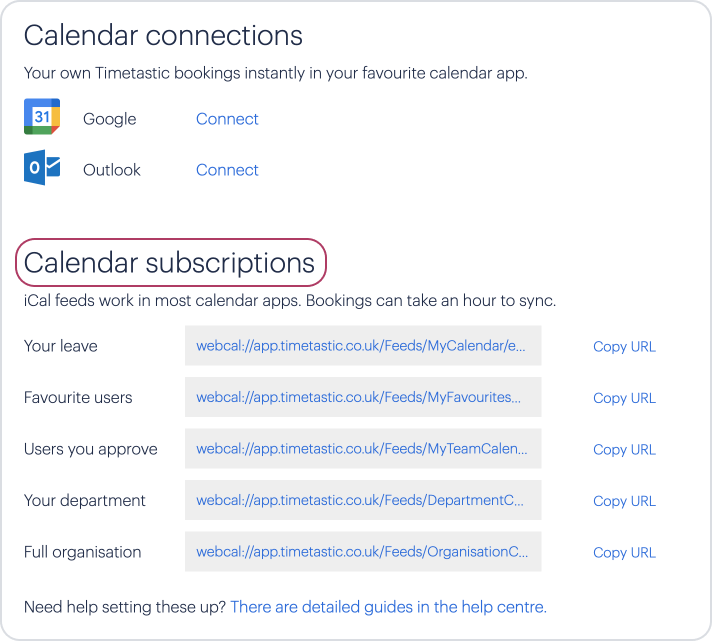 You'll need to choose if you want to subscribe to Your leave, Favourite users, Users you approve, Your department, or Full organisation, and in most cases you'll find that clicking the link (blue feed URL) will open your normal calendar app (e.g. Outlook/ Apple) and it's just a matter of clicking to accept.
In the event that your calendar doesn't open you may have to setup the calendar feed manually. To get the feed address simply click 'Copy URL'.
You'll then have to follow guidance from your specific calendar application - search their help files for 'calendar subscription' or 'external calendar' or similar.
Note: The iCal URLs are specific to each individual user so they honour your own permission settings within Timetastic. For this reason, we recommend everyone individually links their own iCal feeds to their own calendar.
Leave types
By default, your Timetastic bookings will show as 'Busy' in your Outlook calendar. Leave types can be edited to show as 'Available' if preferred. Here's our guide on how administrators can update the setting within Timetastic: Setting different types of leave
Reporting
Once set up, we report iCal feed hits so you know when your calendar app last checked in and as a result, whether it's up to date.
In your calendar feeds page you'll see the latest fetch time when hovering on the clock (and if we can identify it, the service that checked in).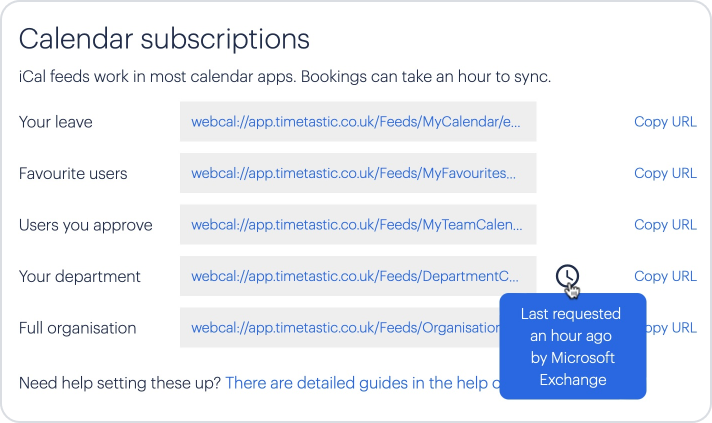 Related articles: