Adding attachments to bookings
You can add an attachment to your leave bookings, which is particularly useful for those times you need to submit or keep a record of a sick note or other supporting document.
Adding an attachment
Open the booking form and fill out as normal, then click the paperclip icon to select your attachment.
Browse for your document to upload, then click to select.
The attachment will show on the booking form.
Submit the booking request as normal.
Note: You can add files up to 10mb in size.
Viewing an attachment
You can view uploaded images by clicking the booking, then clicking the image link.
If you've attached a document rather than an image, it will be download for you to open and view.
Downloading an attachment
To download, click the attachment link to bring up the image, then click the 'Download' link in the top left corner.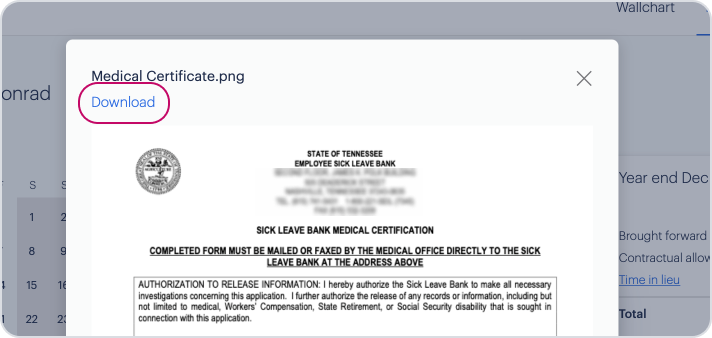 Deleting an attachment
To delete a file attached to a booking, you'll need to cancel the booking. You can then re-submit the booking again if you need. Here's our guide on cancelling leave.
File Types
Timetastic supports the following files for attachments:
| | |
| --- | --- |
| Documents | Images |
| .txt | .gif |
| .csv | .png |
| .eml | .jpg |
| .pdf | |
| .doc | |
| .docx | |
| .xls | |
| .xlsx | |
Note: .heic images are converted to .jpg during upload