Annual allowance: in days or hours
For each staff member you have the choice of assigning their annual allowance stated in either days or hours:
Days
The default for all users uploaded into Timetastic is an allowance stated in a number of days per annum.
When they book time off they can do so in either full or half days, and their allowance will be adjusted accordingly.
Hours
For those with contractual allowance stated in hours, or if you allow take time off in increments of an hour, half hours or quarter hours, then you'll need their annual allowance converting to hours.
Once stated in hours they will be able to book time off in increments of either full, half or quarter hours.
The process for requesting time off remains exactly the same.
Changing from days to hours
Converting a user from days to hours can be done by either their departmental boss of any administration user.
Select 'Users' from the main menu.

Select the user you want to convert and head to the 'Allowance' tab.
Next, click the 'Change to hourly' link.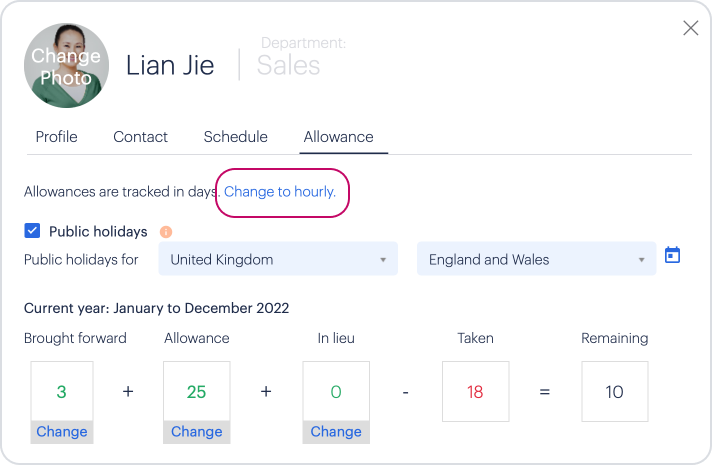 A conversion from days to hours will be made and you can set the number of hours per working day this is based on. Click the 'Convert' button once you want to proceed.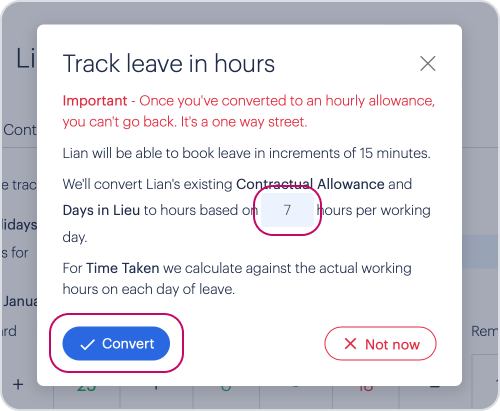 Tread with caution: Once converted to hourly it can not be undone, either by you or us. If you want to see how it works then I'd advise you to create a dummy user first and test with them to see if the process works for you.