Calendar feed not updating
We see occasional requests from customers experiencing problems with Timetastic Calendar Feeds not updating external calendars.
Unfortunately resolution of this issue tends to be a waiting game.
An important aspect to understand about ical feeds:
It is your calendar application (Outlook, Google, Apple, etc etc) which periodically requests an update of the information from Timetastic i.e. Timetastic does not push the data to you calendar, it's your calendar that requests it from Timetastic.
Although you calendar will automatically request an update from the Timetastic feed, the timescales can be somewhat unclear and occasionally calendars seem to stop updating or have large delays - we've seen as much as 2-3 days.
To help with this, we now report iCal feed hits back to Timetastic for all users. This means you know when your calendar app last checked in and as a result, whether it's up to date.
In your calendar feeds page you'll see the latest fetch time when hovering on the clock (and if we can identify it, the service that checked in).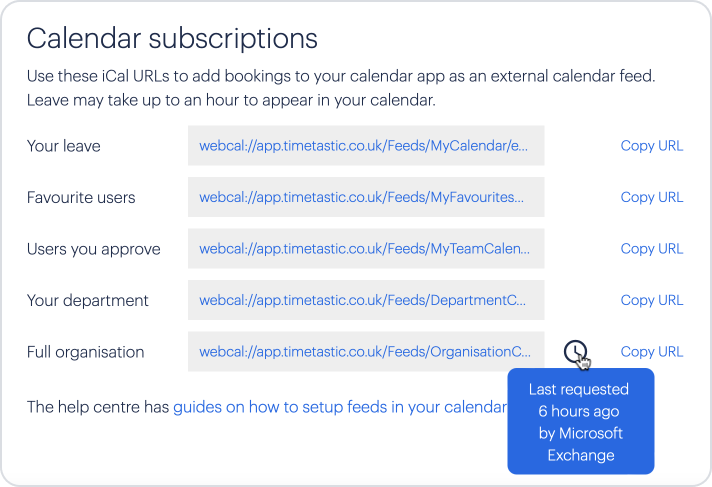 Seeing orange icons there means it's been more than 24 hours since the last poll, so your calendar app is having issues contacting us.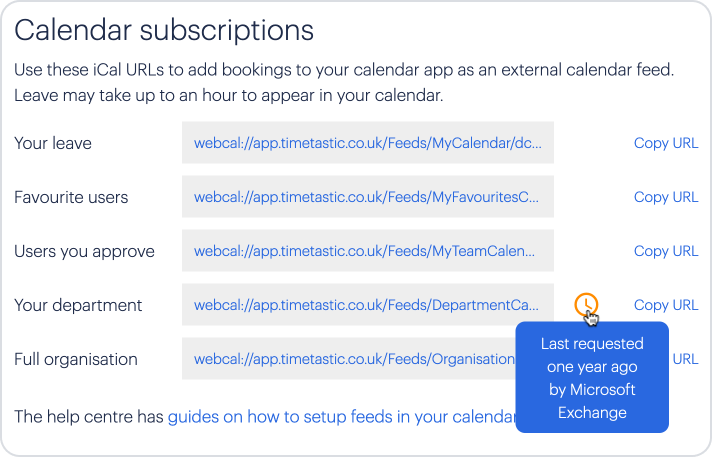 As the amount of data we gather from this grows, we're hoping to both improve our iCal update rate and identify problem clients so we can work around specific issues. We're building up a data set using all of our iCal hit data so hopefully we can start to identify trends and issues that crop up.
Possible solutions:
Some clients have reported success by deleting the feed from your calendar completely and reinstalling it, it seems that in some instances this is sufficient to kick start the updates again.
We have seen instances where clients server firewalls block Outlook from updating the iCal feed from Timetastic. To fix this, they configured a firewall whitelist for Outlook for our IP - "191.235.177.51".
Otherwise we are genuinely sorry and like you, wish there was a better solution to this issue.