Timetastic Pro - an introduction
Wondering exactly what's included on Timetastic Pro? In this short guide we'll give you a quick rundown of the key features, along with some screenshots to give you an idea of what things look like.
The key features are:
1. Advanced scheduling
For employees who have more complex schedules - perhaps two weekly patterns, regularly changing days off or flexible working. There's a couple of options with advanced scheduling on Pro:
Repeating schedules
For employees who work a two week work pattern, Timetastic Pro lets you set schedules that repeat every other week. Perfect for those staff with a 9 day fortnight or alternating shift patterns.



Flexible schedules and ad hoc changes
For ultimate flexibility, this feature lets you make one off, ad hoc changes to a single working week for any of your employees. This can be done directly from the Wallchart or the employee's calendar, which is ideal when you need to make a quick change to their working schedule.

Read our full guide on how to set advanced schedules
2. HR fields
Ideal if you want to store additional details on your employee records; Pro includes an additional Contact tab in their user profile. We're talking about job title, address, phone numbers, emergency contact, and payroll ID.
Here's what your Timetastic Pro contact record looks like..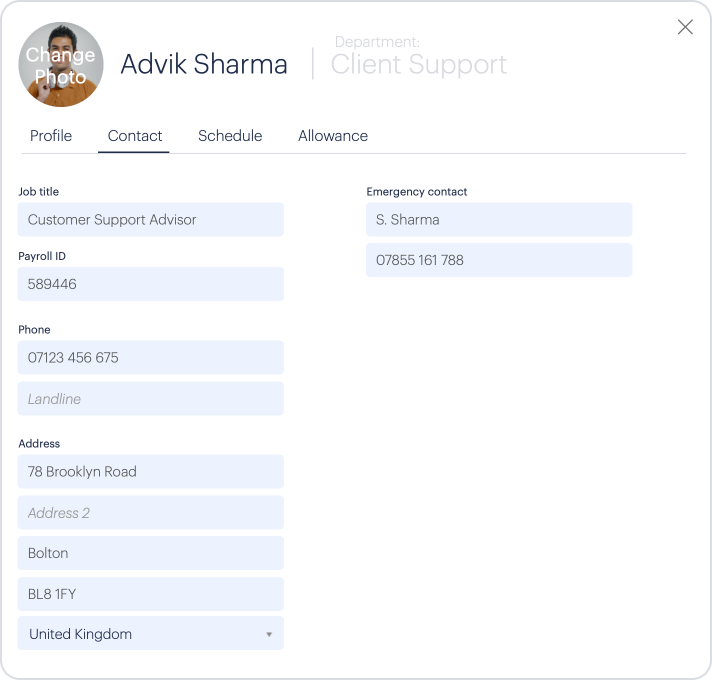 3. Microsoft Teams integration
The number of companies using MS Teams is huge now, a massive jump since the COVID years changed our working habits. The integration with Timetastic covers two scenarios:
Daily absence summaries

This option will post a daily summary of who's absent that day. You can choose which channel it goes to and what to include - just your department or the entire company.

Approving time off requests through Teams

If you do most of your internal communication using MS Teams then you might prefer to approve leave requests via Teams too. This feature sends your managers a direct message instead of by email. Approvers can approve or decline requests directly from Teams, no need to log in to Timetastic at all.
Read our full guide on how to set up the Teams integration >
4. Absence insights
The insights page helps you keep a closer eye on your absence trends, highlighting peak times of year for time off. And drawing attention to how many requests are still hanging around and how much time off is remaining.
You get a summary of the current position..

And your annual trend for the current and next year..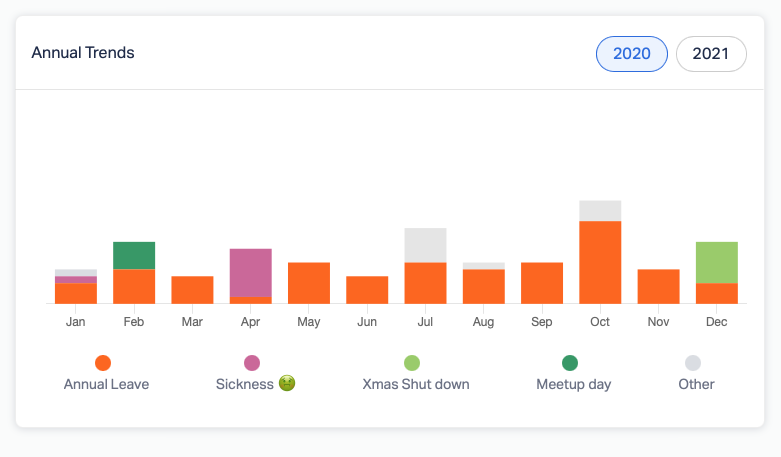 And pending requests..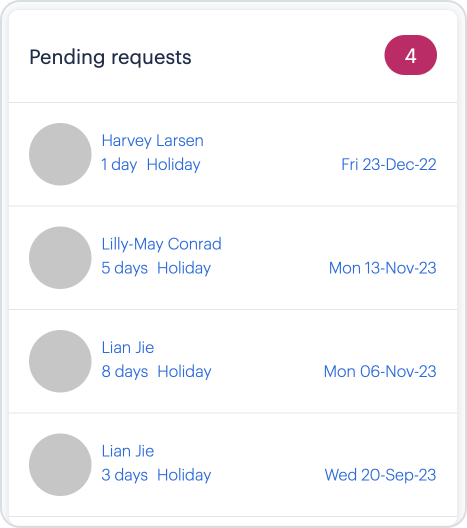 5. Burnout Board
The Burnout Board is totally unique to Timetastic. Its purpose is to help you keep a healthy and productive workforce. After all, well rested staff are healthy and productive staff!
The board ranks your team to give you an indication of who might be overworking and not taking enough time off for R&R.
It'll also help you avoid that issue of everyone stacking up their annual leave until year end, before they lose it.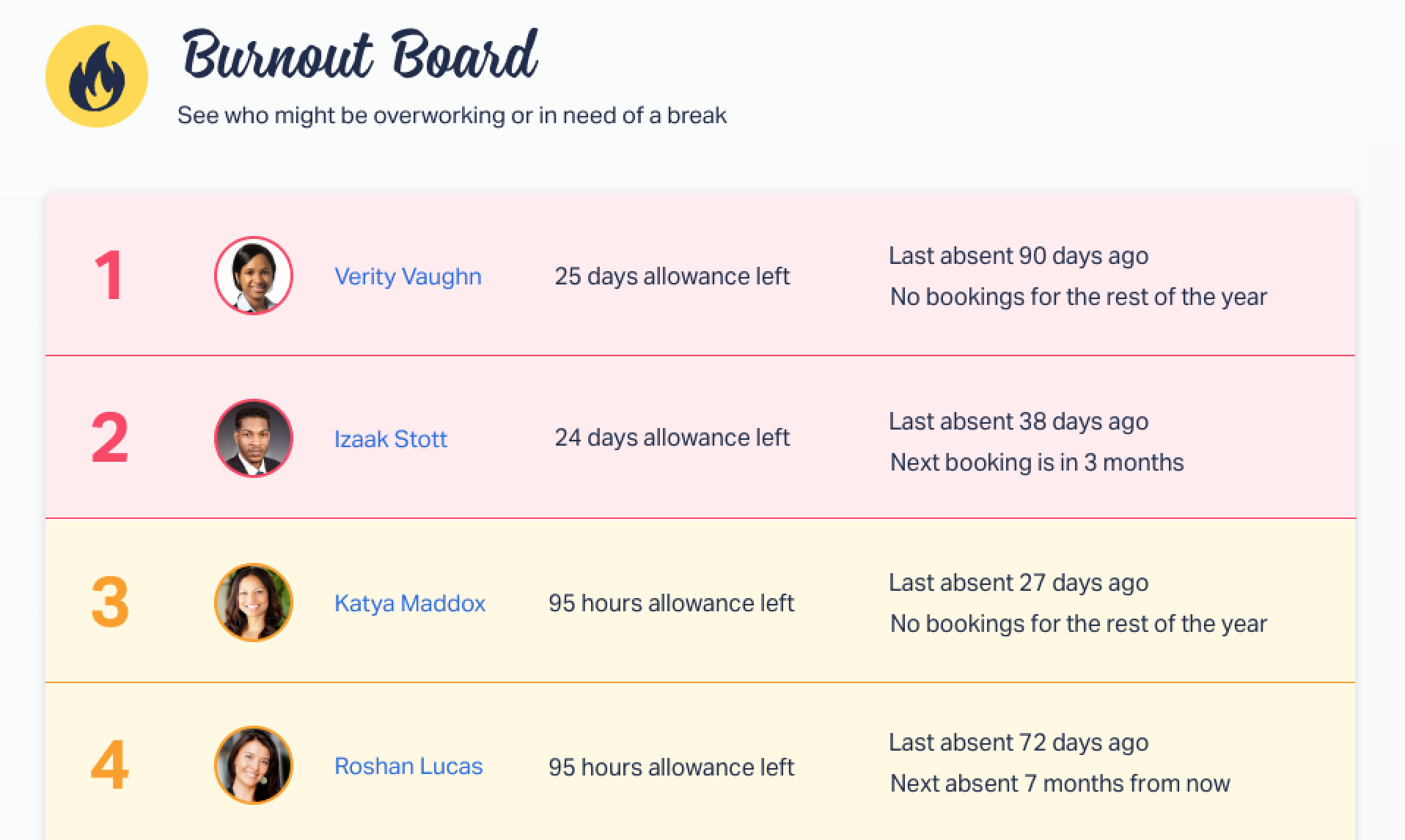 You'll also get a quarterly email, highlighting those employees you might need to talk to about taking some time off.
For more details, please see our Burnout Board guide.
6. Company wide digest emails
Email digests are either daily or weekly emails telling you who's off.
Timetastic Pro gives you some more options here.
Admin users can get a digest that has every employee in the organisation on, and managers can get a digest that covers everyone they approve leave for - even if some of them are in different departments.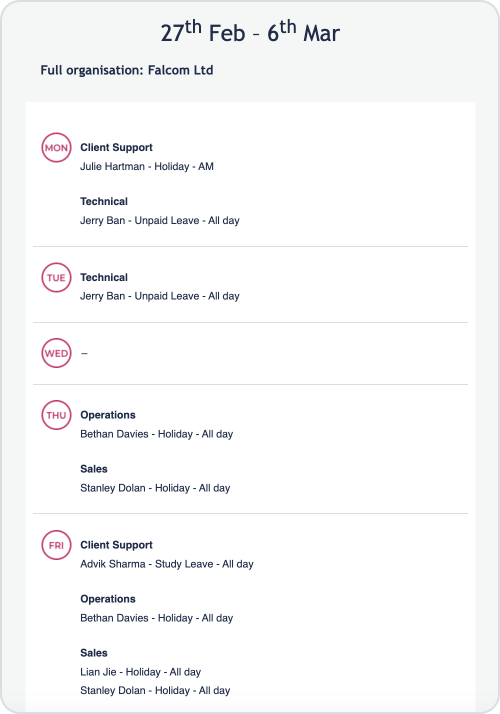 There's a full run through of the email summaries here.
7. Single sign-on
For those security conscious organisations, you'll be happy to know our Pro plan includes Single sign-on (SSO).
Timetastic is compatible with all identity providers that support SAML 2.0, which includes Azure, Google Workspace, OneLogin and Okta to name a few.
We've got some great step by step articles which cover the set up process.
Want to see Timetastic Pro in action?
If you want to try Pro you can switch all the features on instantly anytime you like. Just head to SETTINGS > BILLING and click the link.
You can try it for as long as you like, you'll only be billed for Pro if you leave it switched on during your billing date. And if it's not for you then it's just as quick to switch back to the Business plan anytime.
And of course if you have any questions then just reach out to our support team, we're always happy to help: hello@timetastic.co.uk