Locking a date prevents staff from booking time off on dates/date ranges you specify. The lock can apply to the whole company, a specific department or even a single user.
This is particularly useful if you've got a busy period coming up and need everyone in, or have a company event and you need a specific department to attend.
How to lock a date
Admin users can lock dates for the entire organisation, individual departments or users. Department managers can lock for their department or individual users.
On the Wallchart hover over the 'Book time off' button and you'll see the option: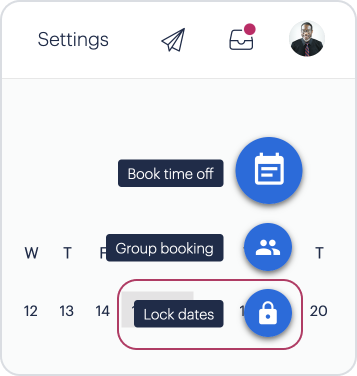 Click the 'Lock dates' button and the form will open: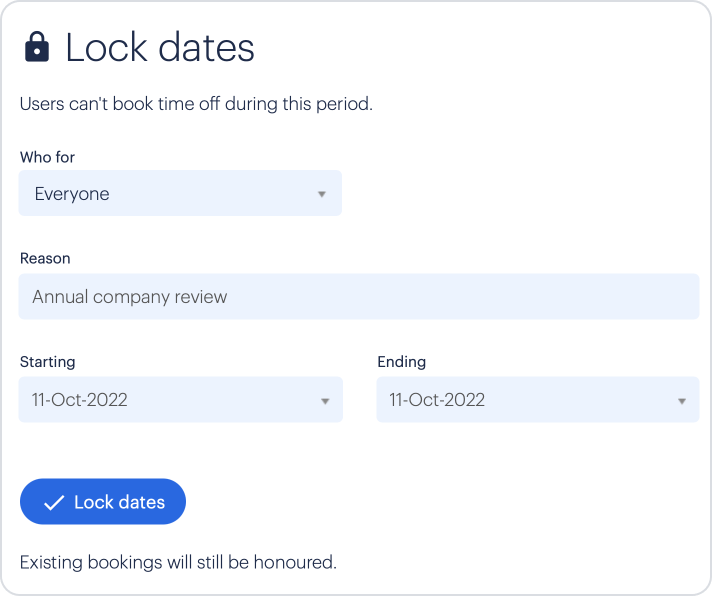 Select who the lock applies to, the reason and the dates.
Note: existing bookings are still honoured - the lock will only affect anyone who attempts to make a booking after the lock has been made. You'd need to cancel existing bookings individually if you want those team members in at work too.
Once the date is locked, users will see a padlock on the Wallchart or Calendar indicating they can't book that day off. Clicking the padlock gives the user details about the lock:

How to unlock a date
Admin users and department managers have the option to unlock the date.
Click the date on the wall chart.
Click the 3 dots which show 'More actions'
Select the 'Unlock' option.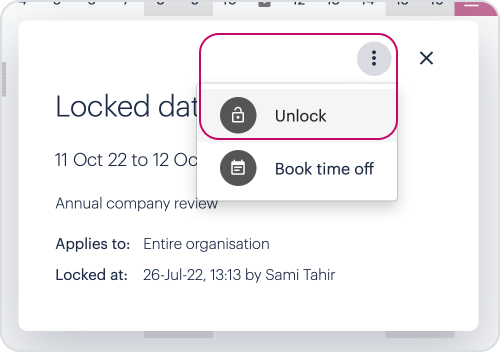 If you've got a user who needs to book time off after you've locked a day, only admin users or their department manager/approver will be able to book the time in for them.
There's a video guide to locking dates here: