Need to analyse sickness? Want to look at holidays over a specific date range? Want to take a full backup? No problem, you can export all your data into Excel - and store, analyse, filter, and pivot till your hearts content 🙂
It's all in SETTINGS > REPORTING & BACKUP.
You've got four reports to choose from:
1. Annual summary
These give you all the data for a given year. All the bookings, deductions, allowances, carry forward values and links to attachments. Just choose the year you want to download.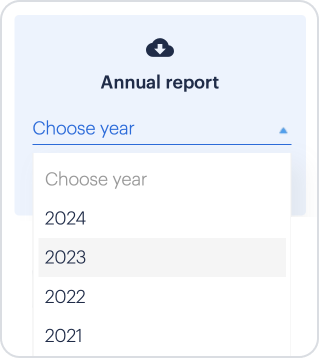 The download has worksheets, you select them from the bottom in Excel: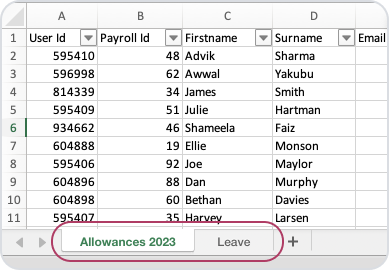 Allowances - summary of how each person has used their allowance, brought forward, carry forward, remaining leave and time in lieu.
Leave - all requests and bookings, including those declined and cancelled.
2. Full backup
You can export all your data from Timetastic, ideal for backup, big data analysis or just looking across years. There's the option to download into Excel or all data including uploaded attachments into a Zip file.
The Excel file contains worksheets with data in 6 worksheets:
Organisation
Departments
Users
Leave
Time in lieu
Work schedules
If you choose a Zip file download, attachments are sorted by employee into separate folders, along with the Excel file.
3. Audit trail
The audit trail shows you actions and changes to your account.
We're not talking about bookings here. We're looking at adding and removing users, changing admin users, updating work schedules, changes to department settings.
Did something change on your account? Want to know when it happened? This is where you go.
You'll be prompted to pick the date range for your audit trail, then click 'Download'.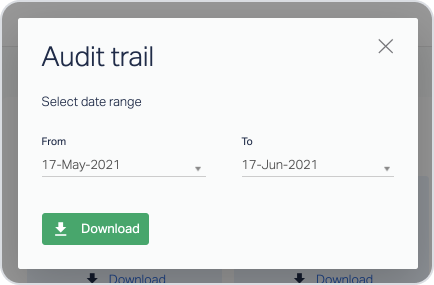 Note: Audit trail data is available back to 20th May 2018.
The download includes:
| | |
| --- | --- |
| Date/ Time | When it happened |
| IP Address | The IP address that made the change |
| Action | What happened |
| Triggered By | Whether it was triggered by a user or was automated (for example the annual carry forward is automated) |
| Triggered By Details | The name and email address of the user who made the change |
| Target Type | The data field that was changed |
| Target Id | The record ID of the item that changed (handy if you've got e.g. 2 users with the same name) |
| Target Name | The name of the record that changed (leave type name, user's name, organisation name etc) |
| New Values | The new value in the record |
4. Recent transactions
Finally, you've got a real time list of the most recent bookings, with the option to download the last 30 days to Excel.