Timetastic + Slack: integrations
Slack is a team chat app used by teams that want to keep in constant contact with each other on projects in real time. If you're not using Slack, you can check them out here: https://slack.com/
What do these integrations do?
There are a few different options when using the Timetastic + Slack integration:
Any of your admin users can set up these integrations. To link Slack and Timetastic head to SETTINGS > INTEGRATIONS in the desktop version of Timetastic.
1. Daily absence summary
Once enabled, this feature will post a daily summary to your chosen Slack channel each morning showing you who is off today.
To make the post relevant you can specify exactly which department to include.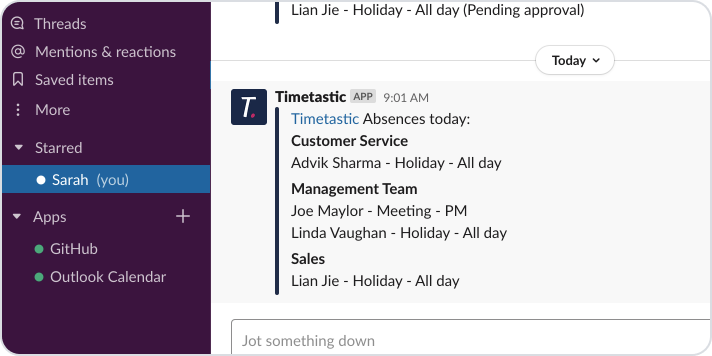 If you have the 'Hide leave types' privacy mode switched on (the default setting) then leave type information will not be posted to Slack. If you want that information then you'll need to switch that privacy mode so they are visible.
Example of a Slack daily summary with leave types hidden: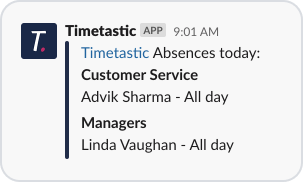 Getting set up
Head to SETTINGS > INTEGRATIONS.
Click the 'Add to Slack' button against the daily summary option to start the process.

If you aren't already signed into Slack, sign in when prompted.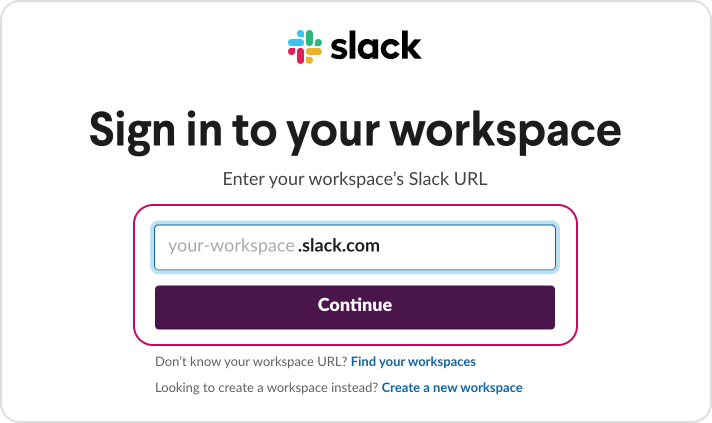 You'll be asked to grant access to Slack, choose which Slack channel to post to before finally clicking the 'Allow' button.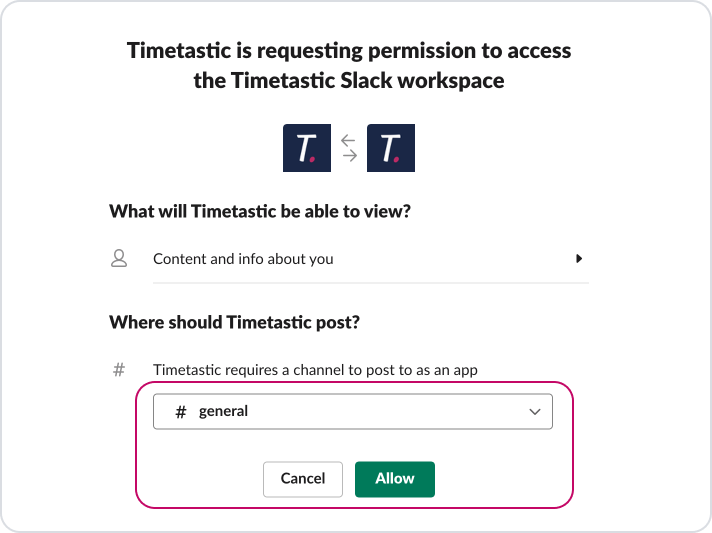 You can now come back to Timetastic to choose your department, notification time and whether to include public holidays.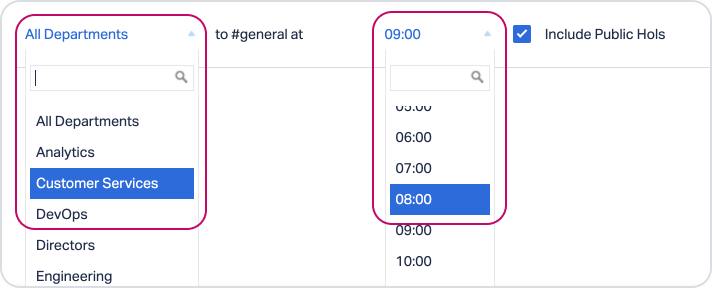 2. Leave request
This option sends leave requests and notifications via Slack, so instead of getting emails you'll get direct messages.
Note: this feature requires your slack email and Timetastic email to be identical.
Getting set up
To setup the leave notifications via Slack, click the 'Add to Slack' button next to the option as shown below.

To grant access to Slack, click the 'Allow' button.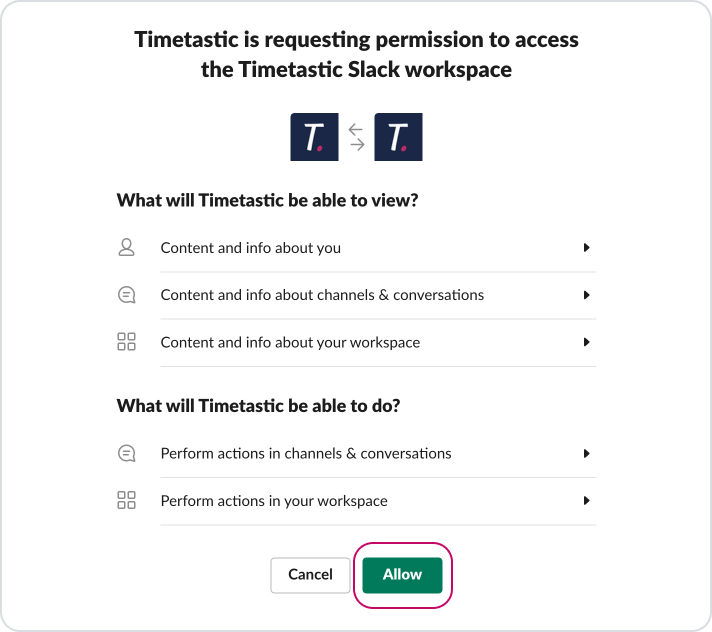 Once installed, you'll receive all leave requests and notifications to your direct channel in Slack.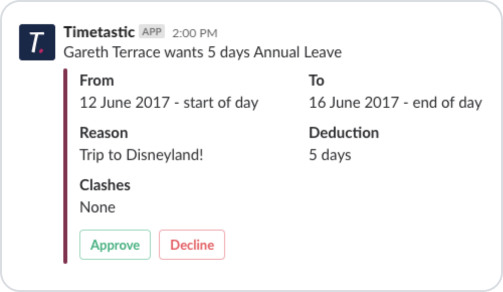 3. Slash commands
Slash commands in Slack let you check who's off on a certain day, or during a specific time period. To use these commands you'll need to have integrated the Slack leave requests option, as covered in section 2 above.


Once integrated, you can use the slash command by typing /Timetastic in the message field followed by the date or time period you'd like to check, then send the message.

You'll receive a reply back with the relevant details of who's off.

Here are some other examples you could use:
/Timetastic next week
/Timetastic 13th to 17th Feb
/Timetastic 9th March
The details given will only be posted to you, no one else in the Slack channel can see your slash commands or the replies.
The information in replies will honour the privacy modes you have set in Timetastic, we'll share no more information in Slack than people can see on the Wallchart.