Two-factor authentication
Two-factor authentication (2FA) adds a second layer of security to your Timetastic account. Each user can set up 2FA individually from within their profile.
How two-factor works
With two-factor authentication you have an additional step in the sign in flow:
Enter your email address and password as normal.
Enter a 6 digit code from an authentication app on your mobile phone.
This second step makes your account far more secure. It means your account can't be accessed by anyone unless they know your password AND have your mobile phone.
SSO users: If you sign into Timetastic through an SSO service. For example, Google login, Azure, Okta. You'll use 2FA on their authentication process, rather than this process in Timetastic.
Before you start
If you don't already have one, you'll need an authenticator app (e.g. Microsoft Authenticator, Google Authenticator or Authy). It's best to have your app set up and ready to add a new account.
Setting up 2FA
Sign in to Timetastic, click on your profile image and select 'My preferences' from the drop down menu.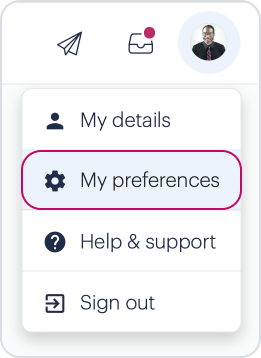 Select 'Two-factor auth' from the left hand menu.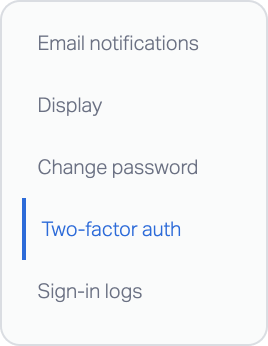 Click 'Setup authenticator app'.

Open the authenticator app on your phone and scan the QR code shown in your Timetastic account.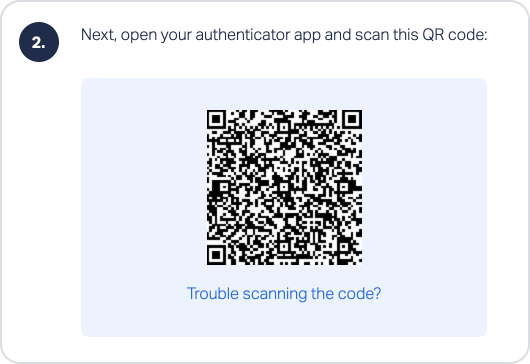 If you have problems scanning the code, click on the 'Trouble scanning the code?' link and enter the code provided into your app.
Finally, enter the code given by your app into Timetastic then click 'Verify & Continue'.

You'll see confirmation that 2FA has been switched on for your account.

Recovery codes
One 2FA has been set up, you'll be given a set of back up codes. Download them or copy them somewhere safe.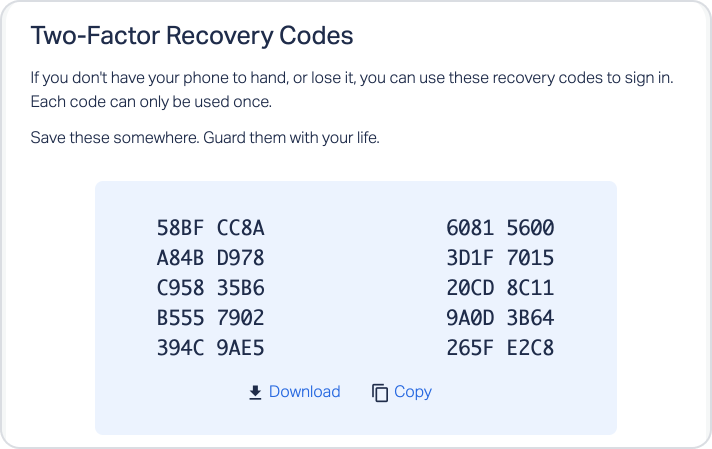 If you lose your codes or think they've found their way into the wrong hands, you can get a fresh set which will replace the old ones.
Simply navigate back to 'My Preferences' from the drop down menu under your profile.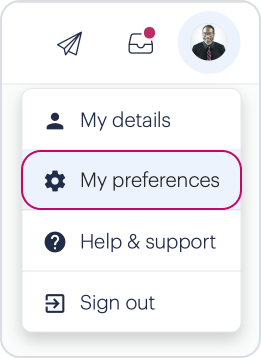 Select 'Two-factor auth' from the left hand menu then head click the 'Generate a new set of codes' link at the bottom of the page.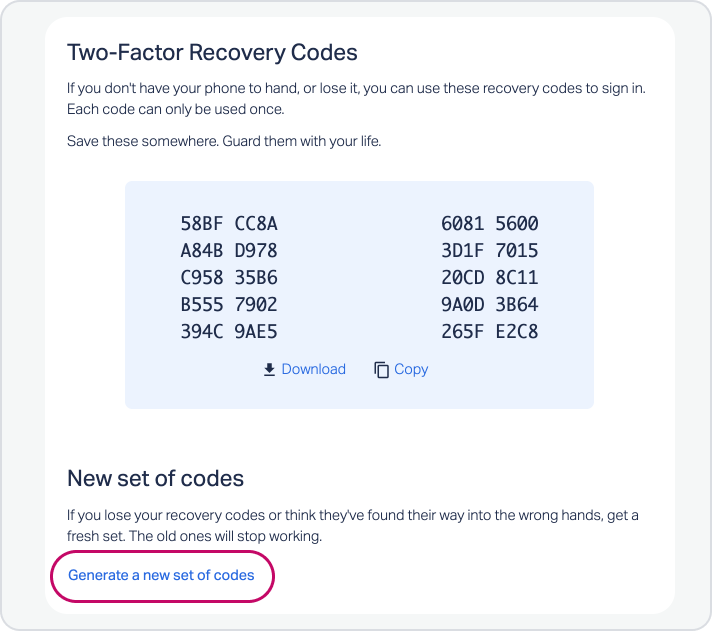 Switching off 2FA
To switch off 2FA for your Timetastic account, head back to 'My Preferences' then in the Two-factor authentication section, click 'Switch off 2FA'.

You'll be prompted to confirm 'Yes, turn off 2FA'.