Timetastic and Microsoft Teams

Microsoft Teams is part of Office 365. It combines workplace chat, video meetings, and file storage.
What does this integration do?
There are a couple of options when using the Timetastic + Teams integration.
Daily absence summaries
Dealing with absence requests via Teams
💡 Timetastic Teams bot is a notification-only bot, it can't reply to your chats.
1. Daily absence summary
Once set up, this feature will post a daily summary to your chosen Teams channel for specified departments or for the whole organisation, showing you who is off today.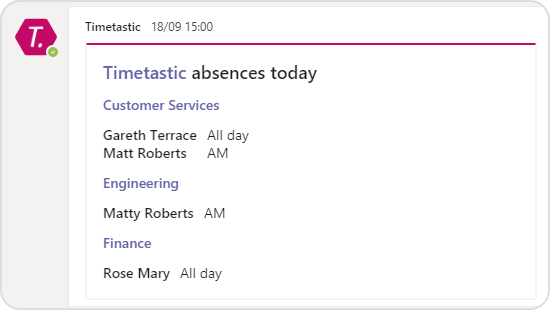 When you set up your Teams integration you can choose which department, what time to be notified and whether to include public holidays.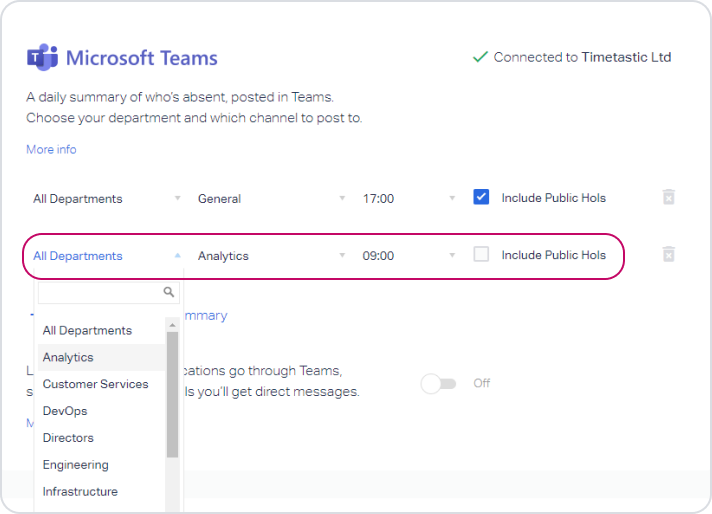 Note: if you have the 'Hide leave types' Privacy Mode switched on (the default setting) then leave type information will not be posted to Teams. If you want that information then you'll need to
switch your Privacy Mode to Visible.
2. Leave requests and notifications
This option sends leave requests and notifications via Teams, so instead of getting emails you'll get direct messages in Teams. Approvers can approve or decline requests immediately, without needing to log in to Timetastic.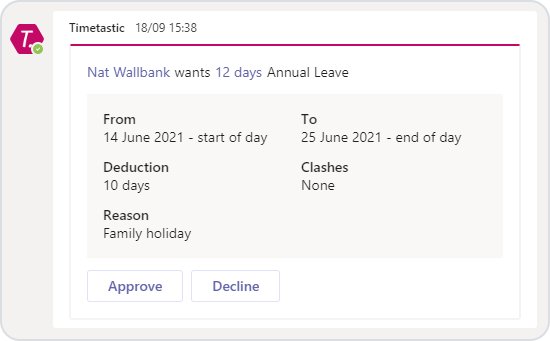 Note: this feature requires your Teams email and Timetastic email to be identical. If you have aliases set up in Office 365, Teams reports the primary email address for your account.
Getting set up
These integrations have to be setup by an Admin user, any other user level won't be able to access these settings.
To link Microsoft Teams and Timetastic head to SETTINGS > INTEGRATIONS.
Click the 'Connect Teams' button.

Alternatively, you can search for the Timetastic app from within Teams.
Teams will open and show the Timetastic app details.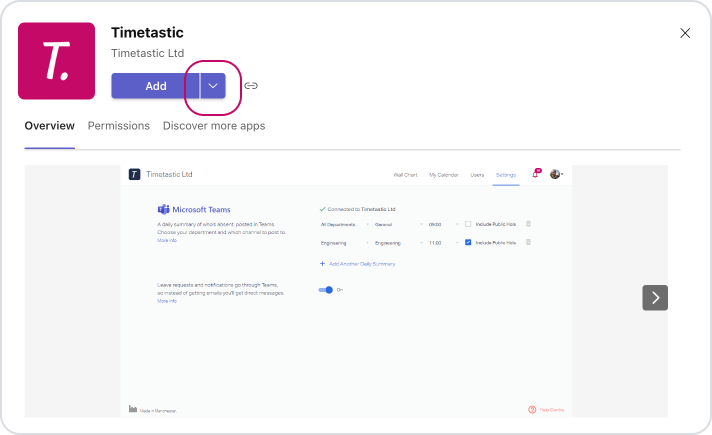 Click the dropdown arrow and select 'Add to a team'.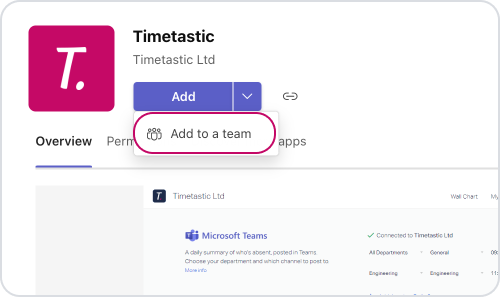 Important note: Timetastic needs to be installed for your entire team to work. If you click 'Add' rather than 'Add to a team', Timetastic will be installed as a personal app but won't send any notifications.
Next choose your channel (the Timetastic app is installed Team-wide) and click 'Set up a bot'.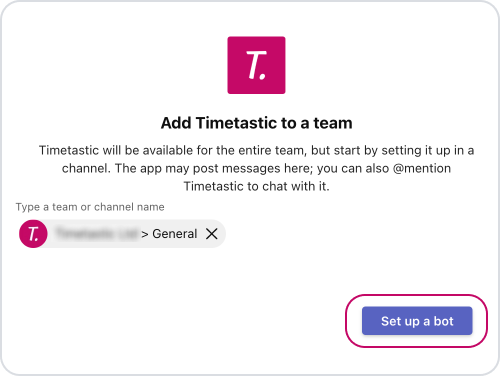 You'll receive a chat message from the Timetastic bot that helps you connect your Team to your Timetastic organisation. Click 'Existing Timetastic User'.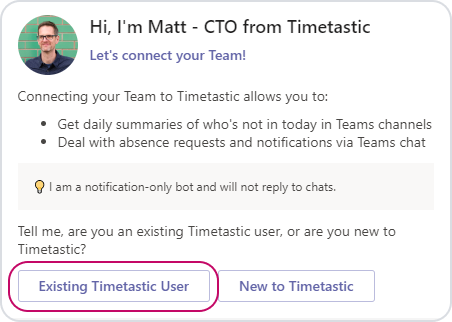 Timetastic will open and confirm the connection. You can now choose your department, notification time and whether to include public holidays.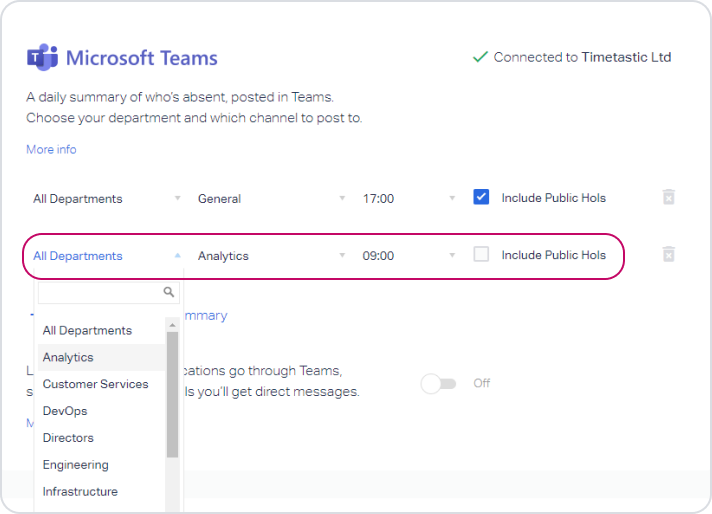 To set up leave notifications via Teams, toggle the setting to 'On' as shown below.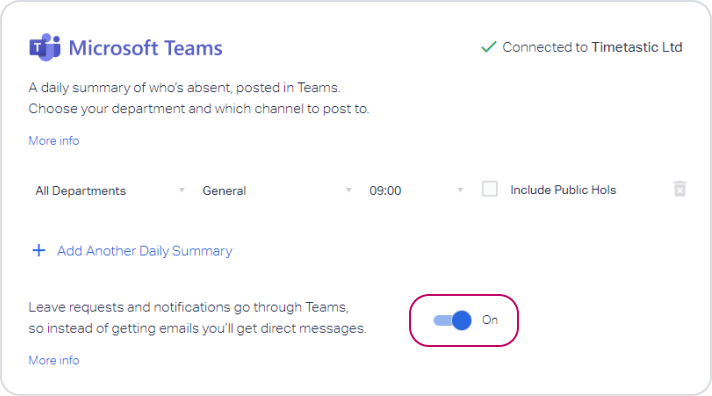 Uninstalling the Teams app
You can disable the integration in SETTINGS > INTEGRATIONS or to completely remove it you can remove the app from within Microsoft Teams.
To remove the app in Teams, click the the 3 dots to the right of your team name, and select 'Manage team'.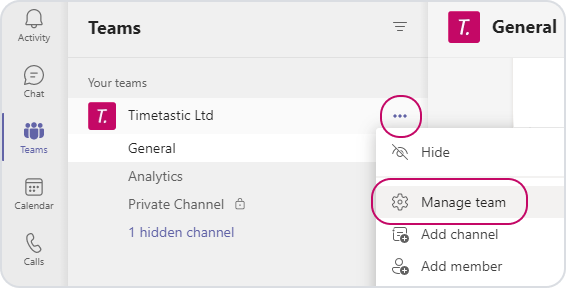 Next, click the 'Apps' tab, then the trash icon and choose the 'Uninstall' option to remove the Timetastic app.