Installing Google Workspace
You can easily integrate Timetastic into your Google Workspace account from the App Marketplace. In this guide we'll cover:
1. Installing
Head to the Google Workspace Marketplace, and find Timetastic or use this link to go straight there.
Click 'Install'.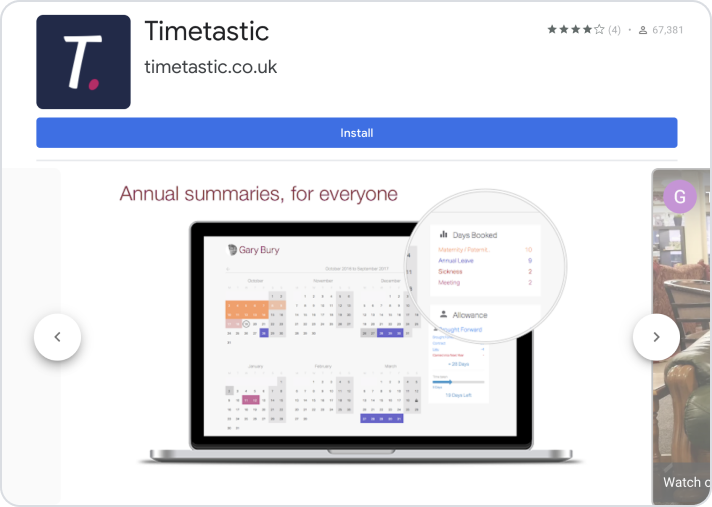 Click 'Launch App' to begin configuring Timetastic.
When you launch Timetastic, we look for an already-existing Timetastic account (based on your Google Workspace email address) that we can connect to your G Suite account.
Click 'Connect Google Workspace'.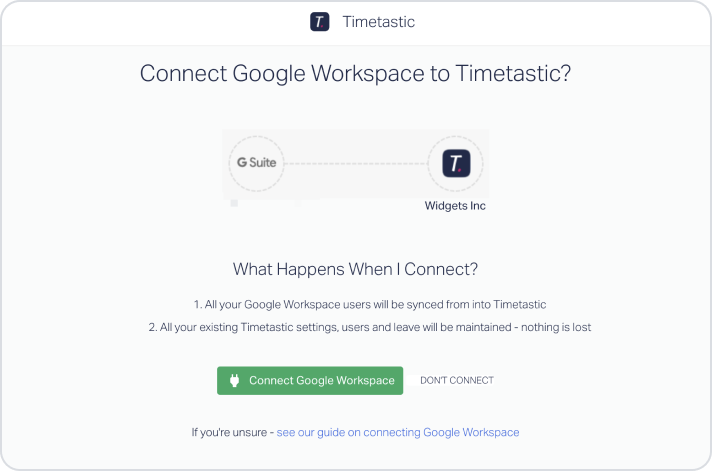 If we can't find an existing Timetastic account, then we'll walk you through creating a new one.
Enter your details then click 'Create new account'.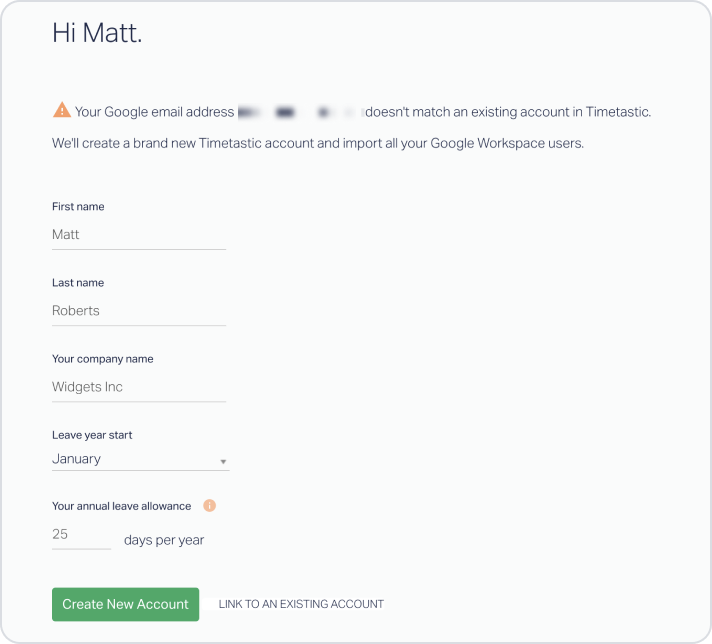 Once you've linked the two accounts, all your Google Workspace users are imported and kept in sync. Click 'Send Emails' to invite your users to start using Timetastic, or you can send the welcome emails later if you'd prefer.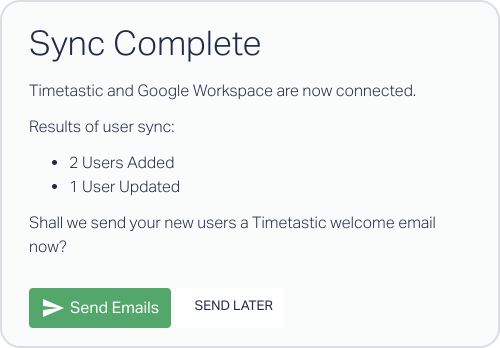 Note: When you install G Suite,
all
of your users are imported into into Timetastic.
If you don't want everyone in sync with Google Workspace, do the import and then head into Timetastic and archive those users. This also stops the integration from bringing them back in.
2. Disconnecting
To disconnect head into SETTINGS > INTEGRATIONS within Timetastic.
Then, just click the delete icon to remove your Google Workspace integration.

Once you've hit that delete icon Timetastic will disconnect from Google Workspace. All your data will remain intact, but Timetastic won't attempt to sync any more.
3. Troubleshooting
If you're having any difficulties with setup, we've got some troubleshooting tips for you here.
Make sure you're logged in as a G Suite user.

G Suite marketplace app doesn't work if you're logged in with a personal google account - it only works for G Suite user accounts. If you're logged in with a personal google account - log out your google account and try again.
If you haven't already, try to launch the Timetastic setup again. From the G Suite Marketplace, click the green "launch" button to configure Timetastic with your G Suite account
Timetastic, like most marketplace apps, needs API Access to your G Suite account. Check that this is allowed by following these instructions from Google.
Check your G Suite permissions
You need to be a domain admin in G Suite to do the install. Check you have the correct permissions.
Check your email addresses match
Check that your G Suite email address exactly matches an email address for an admin user on your Timetastic account.