In addition to a users contractual/ annual allowance, you can also award public holidays for a given country or custom location.
The public holidays will automatically populate on your employees calendars and wall chart, showing them as a day off.
It's worth emphasising that they DON'T deduct from the contractual allowance. They are in addition to the annual allowance. If your employment contracts state an annual allowance which includes public holidays we advise you to enter your allowances in Timetastic net of public holidays.
Assigning Public Holidays to Users
Public Holidays are set on a user by user basis from within their personal profiles. You just check a box if that employee is entitled to Public Holidays in addition to their annual allowance, and select which country's Public Holidays they are entitled to.
You can see this in the following screenshots:
> Select USERS from the main menu.
> Click on the relevant user name in the list to take you to their profile page.
Note: You can use the Multi select/ bulk update if you need to alter the public holiday settings for a group of users.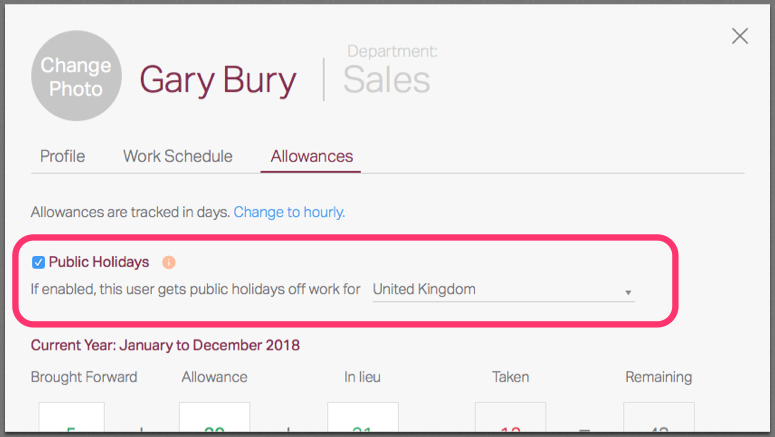 The drop down selector contains a wide range of countries for which Timetastic already has the Public Holiday dates. But if the country you want is not in this list you can move to the Public Holidays settings page to create a new custom country.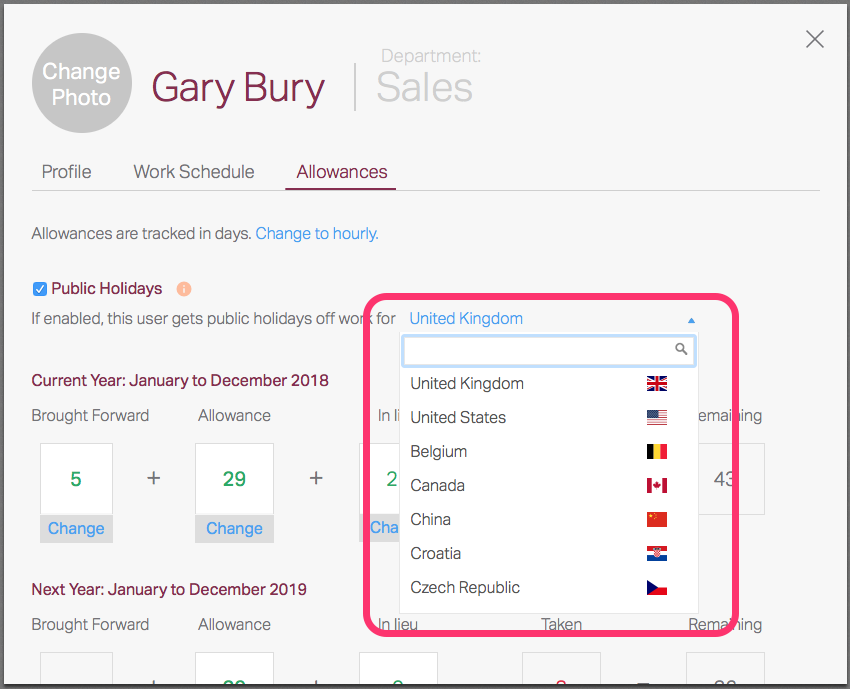 Public Holidays Settings
Navigating to:
SETTINGS > PUBLIC HOLIDAYS
will land you on the settings page for Public Holidays and locations.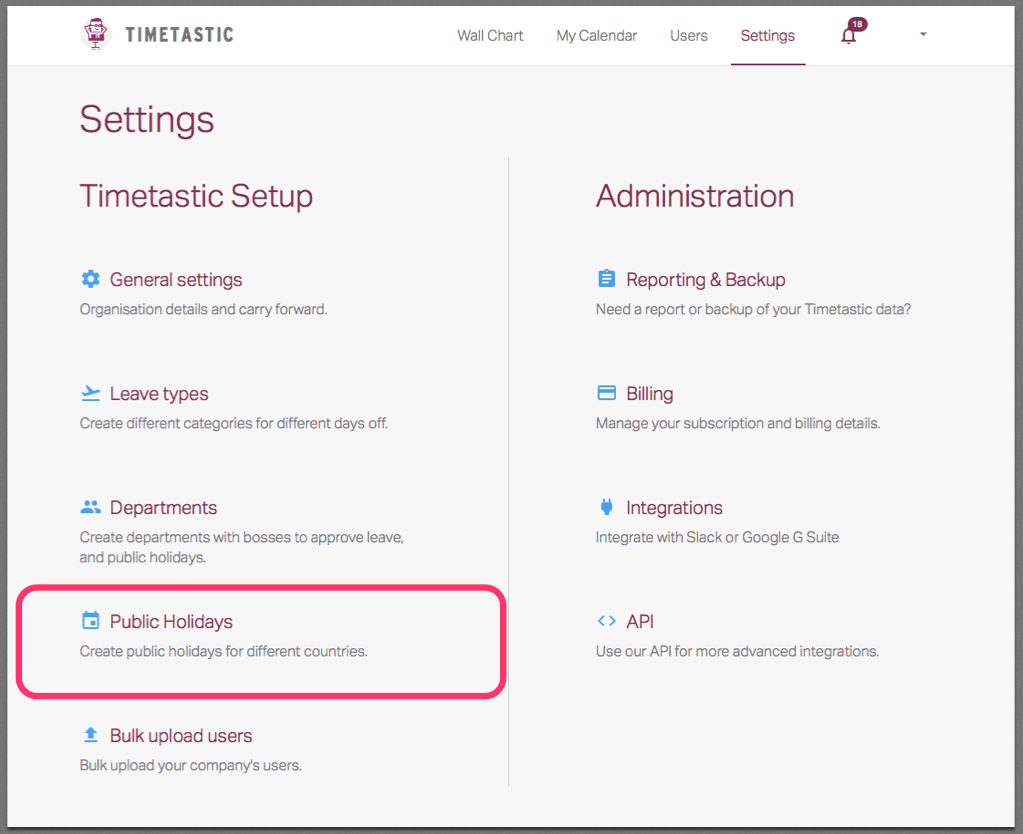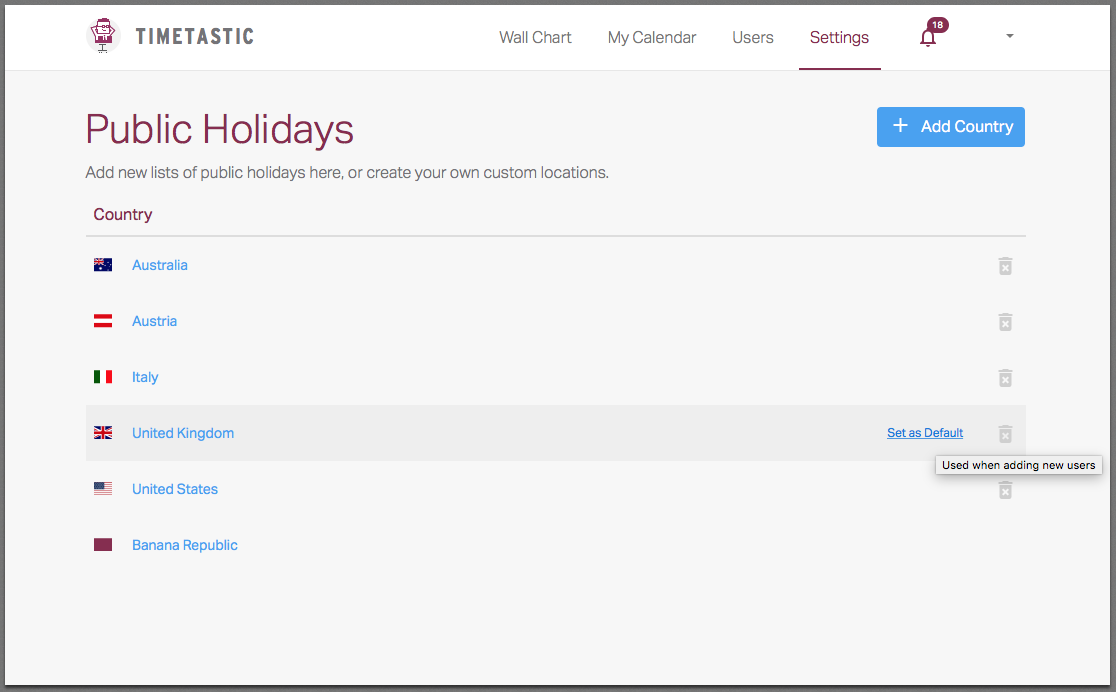 What you will see on this page is a list of countries that are either;
Already assigned to any one of your employees or

A custom country created by you.
You have a few options here:
Set as Default: When you add any new employee to Timetastic, this is the country they will initially be allocated to. It can be overridden in their profile anytime after, but this default is the starting point for any new employee.

Delete (using the Trash Can icon on the right hand side). You won't be able to delete a location if you have at least one employee assigned to it, even if they are archived.

Edit - clicking the country name will bring up the list of public holiday dates, from which you can add/edit/ delete.
Creating a New Country
If the country you operate in is not listed, or perhaps you work in a region of a country that has its own Public Holidays, then you can create a new location, just click
> + Add Country
> select 'New custom location..'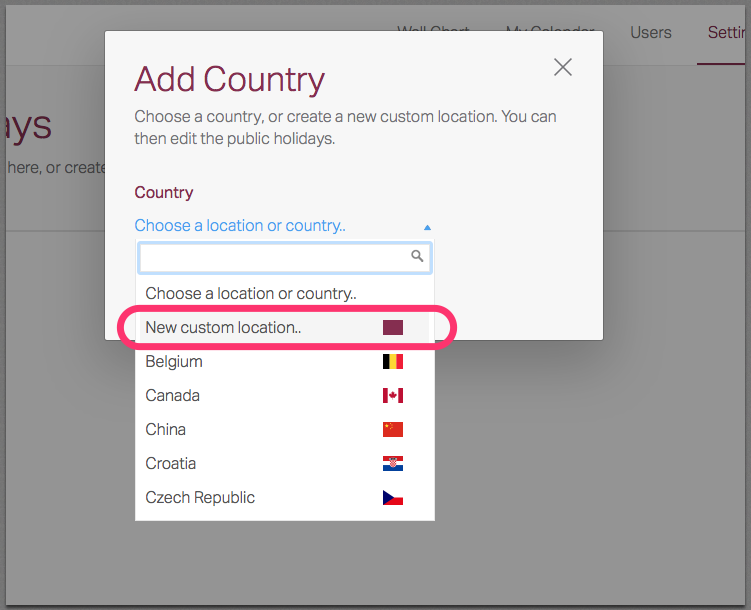 You can give your location a name and then use the '+ Add Date' button to add the specific public holiday dates. All these dates will automatically appear on the calendars of any employee with this location set in their profile.
Perhaps one thing to note is that you want to populate this list as far in advance as the dates are published, you may need to set a reminder to come back to this section to enter the new dates as they are published.