Timetastic + Slack: Integration for Teams
Slack is a team chat app used by teams that want to keep in constant contact with each other on projects in real time. If you're not using Slack, you can check them out here: https://slack.com/
What Does this Integration Do?
The Timetastic + Slack integration will post a daily summary to your chosen Slack channel each morning showing you who is off today.
To make the post relevant you can specify exactly which department to include.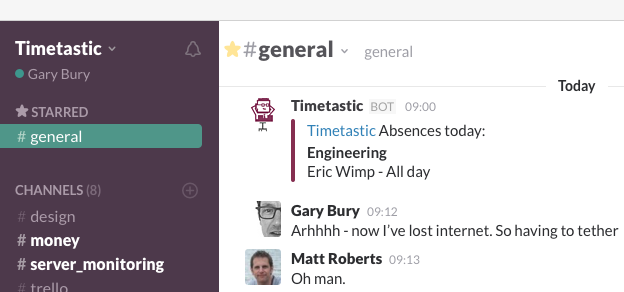 Note: if you have the "Hide Leave Types" Privacy Mode switched on (the default setting) then Leave Type information will not be posted to Slack. If you want that information then you'll need to switch that Privacy Mode off.
Timely Info Means Better Planning
When you set up your Slack integration you can choose which department, what time to be notified and whether to include Public Holidays

Setting Up
This integration will need to be setup by your admin user, any other user level won't be able to access the following link.
1. To link Slack and Timetastic head to SETTINGS > INTEGRATIONS: https://app.timetastic.co.uk/settings/integrations
And click the "Add to Slack" to start the process.
2. In the process you'll be asked to grant access to Slack, choose which Slack channel to post to before finally clicking the 'Authorize' button.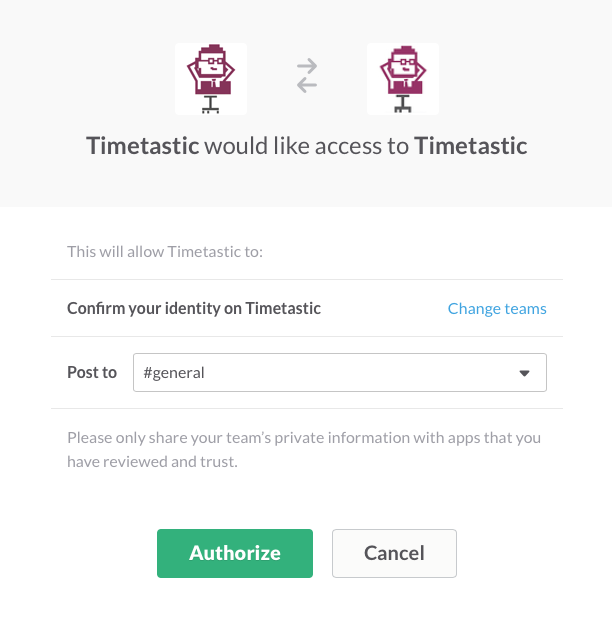 3. And once you have Authorized then you come back to Timetastic to choose your department and notification time.